What Do I Bring to the Philadelphia Register of Wills When Filing a Will?
From our "Ask a Question" Mailbag: What do I bring to the Register of Wills when Filing a Will?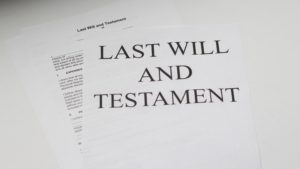 A little preparation will greatly decrease the amount of time you will spend in the Register of Wills' office. If you are the named executor in a will and are preparing to take the will to the Register's office, here is what you will need:
The Original Will:
Look at the will closely to make sure it is not a photocopy. If you cannot find the original will, you will likely need to consult with an experienced Philadelphia Probate Attorney. You might be able to use a copy, but only under certain circumstances. Make a copy of the Will, as the original stays with the Philadelphia Register of Wills.
An Original Death Certificate:
A photocopy will not be accepted. You will also need an original death certificate for each bank, financial institution, life insurance policy and parcel of real estate that you will sell. Get enough copies!
The Executor with Photo ID:
In most cases, the executor will need to be present to be sworn in. If this is impossible (the executor is confined to a house because of illness) or if it is impractical (the executor is in a distant place) there are alternatives available.
Approximate Values for the Deceased's Assets:
Both the Register of Wills and the Pennsylvania Department of Revenue will require that you obtain the value of all assets on the date of death. On the day you go to the Register of Wills office, they do not expect you to know these values exactly, and a good estimate is acceptable. Within nine months you must provide both the Register and the Department of Taxation with exact valuations.
Cash or a Credit Card:
The Register's fee must be paid prior to you obtaining your Letters Testamentary, and the Register no longer takes personal checks. The fee is based on the value of the decedent's estate.
More Probate Questions?
The Register of Wills is only part of the overall probate process. By all means, if you wish to learn more, please read my more detailed article, The Probate Process All You Need to Know.
In Conclusion: 
I hope that this article was helpful in explaining the Register of Wills. Further, I included links to even more detailed information on my website. Therefore, please contact me and let me know how I did. Certainly, your comments and questions are welcome!
Let our Probate Lawyers help walk you through what can be a confusing process. To begin with, call to speak to one of our experienced Probate Attorneys.  By all means, our lawyers are ready to answer your questions. In fact, feel free to contact our office for a free consultation. Ultimately our goal is to make the process as painless as possible!
Wills, Trusts, Probate, and Estate Litigation, It's All We Do
Peter Klenk, Probate Lawyer
Tags:
Pennsylvania,
Philadelphia,
Probate,
Probate Attorney,
Probate Fees,
Probate Lawyer,
Register of Wills